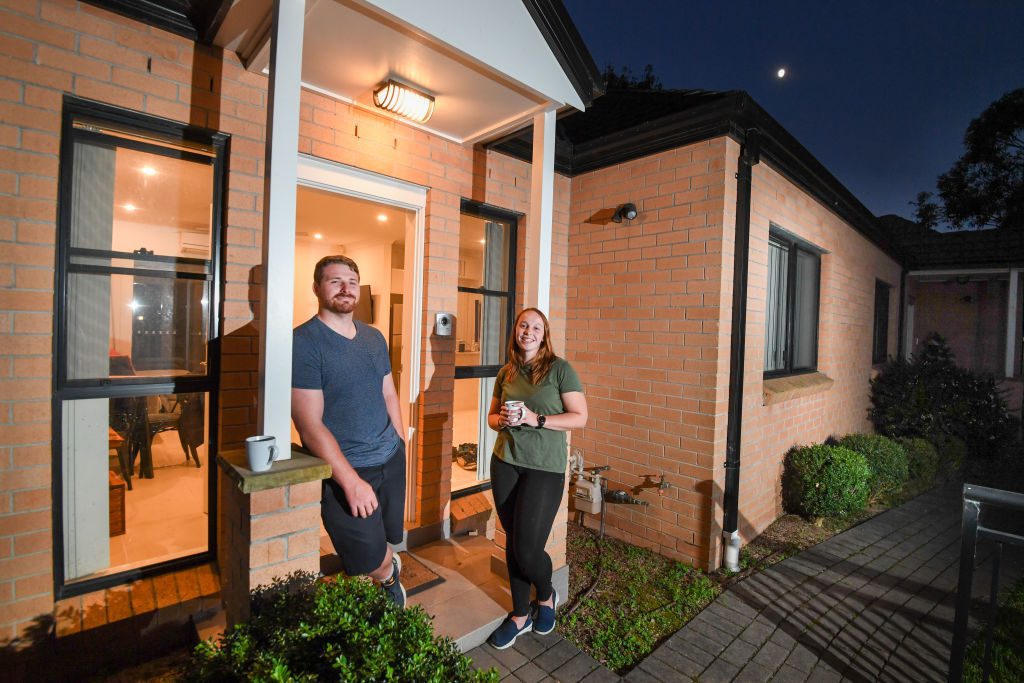 The Following is an Excerpt from the Original Article: Domain Reporter, Here's what you need to know about buying your first home in Sydney's skyrocketing market, 7 May 2021
It wasn't the most romantic of proposals. Instead of going down on one knee with a diamond ring, Adam Wilson's proposition was far more down to earth: how would his girlfriend Rachel Ash feel about tipping in her savings to buy a house with him?
Rachel laughs. "But I said, 'Sure, no worries!'. It was all a bit spur of the moment. We wanted a home together and he was living with his parents, and I was renting with my brother and sister. So, it seemed like a good idea."
For first-home buyers today, with sharply rising property prices, painfully limited affordable stock and record competition, there's not too much room – or cash – left for wine and roses. If they want to get into the market, they have to act as soon as they can, with little fanfare and all their available funds in hand, hopefully augmented by the bank of mum and dad.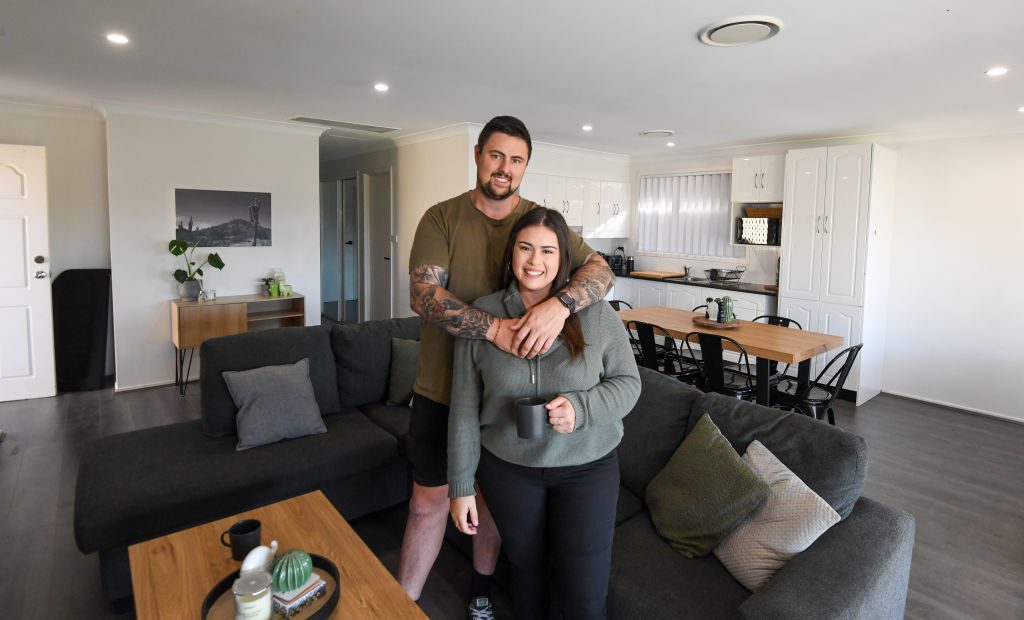 "But, it's been worth it," says disability support worker Rachel, 24, who, together with spinal unit recreational therapist Adam, 28, moved into their $528,000 two-bedroom townhouse in Constitution Hill, near Parramatta, in January this year. "I'd been looking for somewhere to buy for about seven-and-a-half months but I didn't want to live in a unit, and it was hard to find something else somewhere we could afford.

"So, when we saw this, we put in an offer two days later, and it was accepted the same day. And, I love it! It's really nice to have our own space and a backyard and to be able to hang up artwork on our own walls without needing approval."
Although there is now a range of government incentives to help first home buyers – including the First Home Owner's Grant (New Homes), and the First Home Buyer Assistance Scheme – coupled with historically low interest rates, it's had the unintended consequence of often making it much harder for them to break into the market.
AMP Capital chief economist Shane Oliver confesses to feeling sorry for them. "They're often getting stumped by the sheer level of demand," Dr Oliver says. "We're now seeing the level of finance going to investors creeping up to that for first home buyers, so it's getting even tougher now.
"The Sydney property market has taken off so fast, there are only some areas where it's quite calm – like parts of the inner city unit market, or suburbs where there's an oversupply of new developments – and higher prices mean some buyers are no longer eligible for the grants. And, now some are starting to be wound down anyway, so they'll have to borrow more, and there will be a time when interest rates rise again."
There may be many first home buyers now forced into "the barbell strategy", he says – looking for cheaper homes on the edge of the city or in regional centres where they may be able to work from home.
Many are indeed going that way. Comparison site Finder surveyed 1028 first-home buyers for their First Home Buyers Report 2021 and found 24 per cent in NSW were prepared to buy in another state to gain a foothold on the housing ladder.
Finder home loans expert Sarah Megginson said buyers shouldn't succumb to FOMO and act in haste and repent at leisure. "Focus on your own timeline," she said.
"Think about things you can do to cut costs and speed up your deposit savings, and consider going into a joint venture with your parents or siblings. But if you're still keen to buy sooner rather than later, purchasing interstate could be for you."
Mortgage Choice broker Scott Partridge also advises potential buyers to prepare early, familiarising themselves with the purchasing process, researching the market, sorting out their finances and considering their options in advance.
"Some first-home buyers have their heads in the clouds, but others are much more realistic," he says. "Banks can take a while to approve loans and if you haven't saved a substantial deposit, it might be the time for a word with mum and dad. And, although you think you might be borrowing a lot, you have to take into account the low interest and the comparative cost of rent."
Most first-home buyers also face having to make compromises of one sort or another. For Rachel and Adam, that meant having to look farther afield than the location closer to family in the Hills district they would have preferred. For others, like Veronica Rodriguez and her partner Jarrad Richardson, it meant giving up on their first dream of building their own house.
"We got knocked back by a couple of brokers, who said we weren't quite there yet in terms of savings," says Veronica, 24, who's in marketing. "So, we looked around at the market for around five months before buying."
She and Jarrad, 25, a carpenter, lived at home with their parents in order to save as much money as they could for their deposit, which was tough for them after being together for four-and-a-half years.
"Our parents were very supportive, but we still couldn't wait to move out into our own space," she says. "It was difficult, though. There was a low level of stock around and the market was very competitive."
Eventually, they made an offer almost as soon as they viewed a three-bedroom house for $650,000 in Glendenning in the city of Blacktown, and moved there in December. Veronica thinks she's learnt valuable lessons from the experience.
"I'd advise other first-home buyers not to be scared of jumping in the market early and checking out open homes even when you're not ready so you get your expectations in order," she counsels. "Once you have a bit of money saved up, talk to your broker and work on timelines and possibilities. And, be patient: it takes longer to finalise than you may think."
It's also important to take a long-term view, believes Andrew Cocks, the managing director of Richardson & Wrench, and not be tempted to splurge too much. While the Finder report found that 35 per cent of first home buyers in NSW were prepared to spend more than $1 million on a house, Mr Cocks says that's an option only if you're sure it's a debt you can service.
"The real issue is making sure that first-home buyers don't go beyond their means," he says. "While interest rates are low, and are flagged to continue that way, you should only spend what you know you'll be able to afford. If you remember that, you won't get into trouble."
At the moment, it can be heartbreaking missing out at auctions so often when determined bidders raise the price far beyond the real estate agent's guide, or when private treaty vendors set a sum way above a home's real value. The only solution for that, says Adrian Kelly, national president of the ReaI Estate Institute of Australia, is to go along to as many auctions and properties as you possibly can, to get a real grip on accurate prices.
"Then if you're getting priced out of a particular suburb, don't be afraid to look farther afield. A suburb nearby that might not be in as much demand now, will probably be in demand later. Look at Sydney's Redfern. No one used to consider it."
The other alternative is to buy off the plan, so you'll know the fixed price before you set your heart on a home. Usually, first-home buyers make up 30 per cent of demand for new apartments; now it's running at just over 50 per cent, reports developer Hyecorp Property Group managing director Stephen Abolakian. 
"It's about the gap between house and apartment prices, the availability of stock and the inclusions you can get with apartments, and community facilities," he says. "As long as you're buying from a reputable developer, you're a lot more in control of the process rather than being gazumped or losing out at auction."
This, indeed, was the plan for Lachlan Rovers, 23, who started checking out property to buy when he was just 19. Four years later, he came across Hyecorp's new development Elena in Lane Cove, and put down a 5 per cent deposit on a one-bedroom apartment there for $680,000. To be completed later this year, the complex includes an infinity edge pool, landscaped gardens, gym, cafe and cinema. 
"I started working, and saving, as soon as I left school," says Lachlan, who lives with his parents and works processing DAs in the development industry. "I always wanted to buy a property as soon as I could to work my way up the ladder."