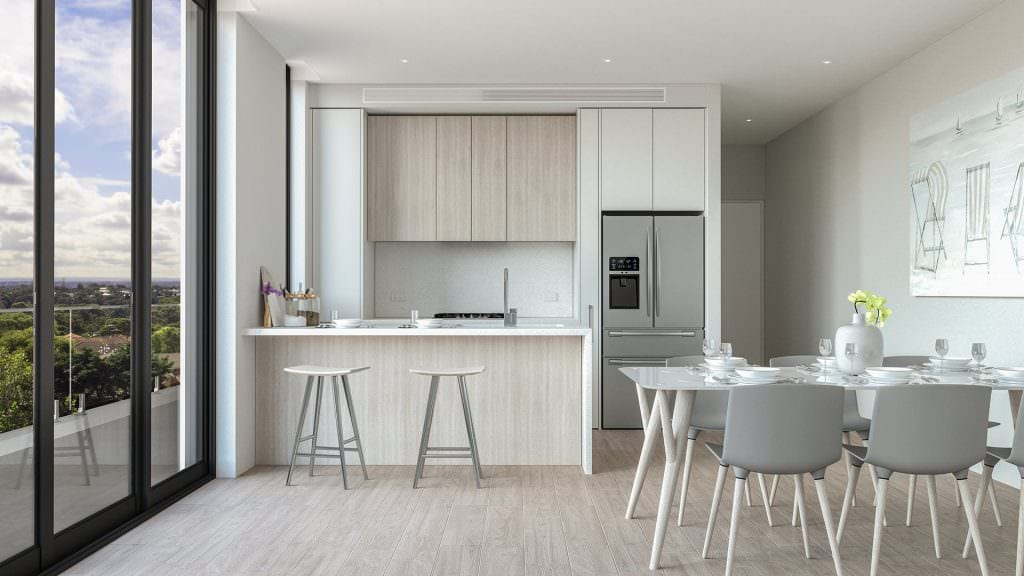 The Following is an Excerpt from the Original Article:
"PropertyObserver", Hyecorp Property Group's Sia set for Sutherland, 14 July 2017
Developer Hyecorp Property Group are set to build a six storey residential development in Sydney's southern suburb of Sutherland.
The 33 apartment development, named Sia, is located at 66 Glencoe Street features one-bedroom apartments range from $585,000 to $625,000, two-bedroom apartments priced from $770,000 to $840,000 and three-bedroom penthouse apartments ranging from $1,100,000 – $1,200,000.
Stephen Abolakian, managing director, Hyecorp Property Group said Sutherland was the obvious choice for the group when deciding where to build their first project outside of the lower north shore.
"Hyecorp is now a fast-growing company and there is a limited amount of development sites in the lower north shore, where we have been primarily active," he says.
"When we were researching which area to expand into, Sutherland was a standout.
"It's a low-risk area, it's well-established with a strong population and there is high demand for the right kind of properties.
"We believe Hyecorp is well-placed to fill the gap in the market and the deliver for what Sutherland residents are looking for and Sia is a great example of this.
"We are offering high quality apartments in an area that has all the infrastructure and amenities that residents could want," he says.
George Benlian, director of sales and acquisitions Hyecorp Property Group said Sia's pricing was set before the State Government announced its housing affordability package and the company is hoping the development will attract a diverse range of buyers.
"Sutherland doesn't have a lot of new stock that comes up – the availability of new apartments is very limited," he says.
"So we anticipate there will be plenty of local buyers and investors attracted to Sia, as well as strong interest from first home buyers from other parts of Sydney, given the generous stamp duty concessions in the Government's housing affordability package.
"Sutherland is an area that definitely has the potential for more density and growth in the medium-long term, so Hyecorp is thrilled to be coming into the community at this point in time."
Hyecorp's in-house architect says key to the design of Sia was maximising both the indoor and outdoor space of each apartment.
"The balconies and outdoor areas are really a continuation of the indoor living spaces to make the most of the views, the breeze and the natural light," he says.
"Hyecorp prides itself on our attention to detail. For example, the apartments all feature full- size pantries with spice racks, high-quality Bosch appliances, ducted reverse cycle air- conditioning, gas points, high ceilings, high windows and shadowline cornices to include a sense of luxury."
The grand opening of Sia's full-fitted display apartment will be held on Saturday 29th July 2017 from 10am to 2pm at level 1, 49-51 Eton Street, Sutherland.
The display apartment will be open Thursdays to Sundays from 10am to 2pm following the grand opening.